With January upon us, it is time to celebrate new beginnings and look forward to what the rest of the year has in store for us. The books selected for our January Book Corner teach us important lessons to bring into the new year, such as kindness, cooperation, and embracing different cultures and traditions.
Dear Student
By Elly Swartz
The author of the middle grade novels, "Smart Cookie" and "Give and Take", Elly Swartz introduces her newest middle grade novel, "Dear Student." Entering middle school, the main protagonist, Ally creates an anonymous advice column, the Fearless Fred for students to express their concerns in a safe environment. However, when a conflict arises between two of Ally's friends, she finds herself in a dilemma. Ally worries about providing fair, honest advice to both of her friends despite their opinions all while protecting her anonymous identity. In this coming-of-age novel, Swartz emphasizes the importance of respecting and listening to other's opinions in friendships, even if one disagrees. "Dear Student" is on sale Feb. 15. Recommended for ages 10 and up.
Enchanted Strings: Bob Baker Marionette Theater
By Randal J. Metz
Founder of The Puppet Company in San Francisco, Randal J. Metz invites readers to embrace their whimsical side with "Enchanted Strings: Bob Baker Marionette Theater." Since 1963, the Bob Baker Marionette Theater in Los Angeles has been an iconic cultural center for those of all ages. This book showcases Bob's behind-the-scenes work in the developing and creation of his beloved puppetry. With the help of visual artists and craftspeople, Bob Baker handcrafted more than two thousand marionettes throughout his career. Baker's puppetry has been featured in iconic Hollywood films such as "Bedknobs and Broomsticks" and "A Star is Born," and in the Journey into Imagination ride at Epcot. With more than three hundred photos and a foreword by Oscar winning director, Jordan Peele, "Enchanted Strings" is a great read for children, parents, and fans of Bob Baker. On sale Feb. 8.
Sofia Acosta Makes a Scene
By Emma Otheguy
Author of the critically acclaimed bilingual picture book, "Marti's Song for Freedom," Emma Otheguy releases her new coming-of-age story, "Sofia Acosta Makes A Scene." A child of Cuban immigrants, Sofia Acosta shares the love of costume designing with her parents, who were ballet dancers before immigrating to the suburbs of New York. One day, Sofia's parents invite their friends from Cuba to dance at the American Ballet Theatre. When Sofia finds out that the dancers wish to immigrate to the United States, she is more than ecstatic. However, when Sofia confides in her best friend about the dancer's plans, she learns that not everyone in her community wishes to embrace "outsiders." In this story tackling immigration and privilege, Sofia must learn to stand up for herself while embracing her family's heritage. "Sofia Acosta Makes A Scene" is on sale Jan. 25. Recommended for ages 8-12.
Our Lunar New Year
By Yobe Qiu
With the Lunar New Year quickly approaching, "Our Lunar New Year" celebrates cultural diversity, with Entertainment Tonight featuring it as a recommended Lunar New Year resource for children. Author and educator Yobe Qiu highlights how Lunar New Year is celebrated in Chinese, Korean, Thai, Vietnamese, and Indian communities. With five short stories, children Xiao Mi, Hang, Kwan, Charu and Malai outline the traditions that they and their families partake in during Lunar New Year. From dragon dances in China to making good luck diyas (oil lamps) in India, "Our Lunar New Year" allows families to diversify their bookshelves and learn more about AAPI (Asian Americans and Pacific Islanders) traditions and cultures.
Not Enough Lollipops
By Megan Maynor, illustrated by Micah Player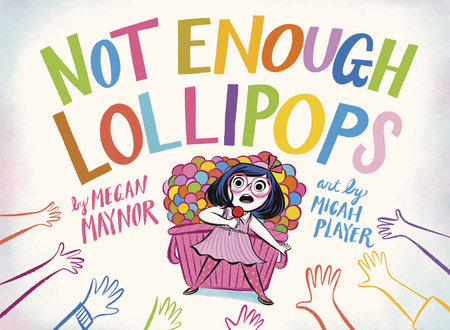 A children's picture book centering around conflict resolution and generosity, author Megan Maynor and illustrator Micah Player team up for "Not Enough Lollipops." When Alice wins an enormous box of lollipops, she wants to share them with her classmates, but everyone has a different opinion of how she should divide the prize. Should Alice give extra lollipops to her friends? Should she not give any to the kids who hog the tire swing? What if she doesn't have enough to go around? "Not Enough Lollipops" is on sale Feb. 8. Recommended for ages 4-7.
For more book suggestions, check out our December Book Corner.